How To See Crew Dragon Сhasing The ISS In The Sky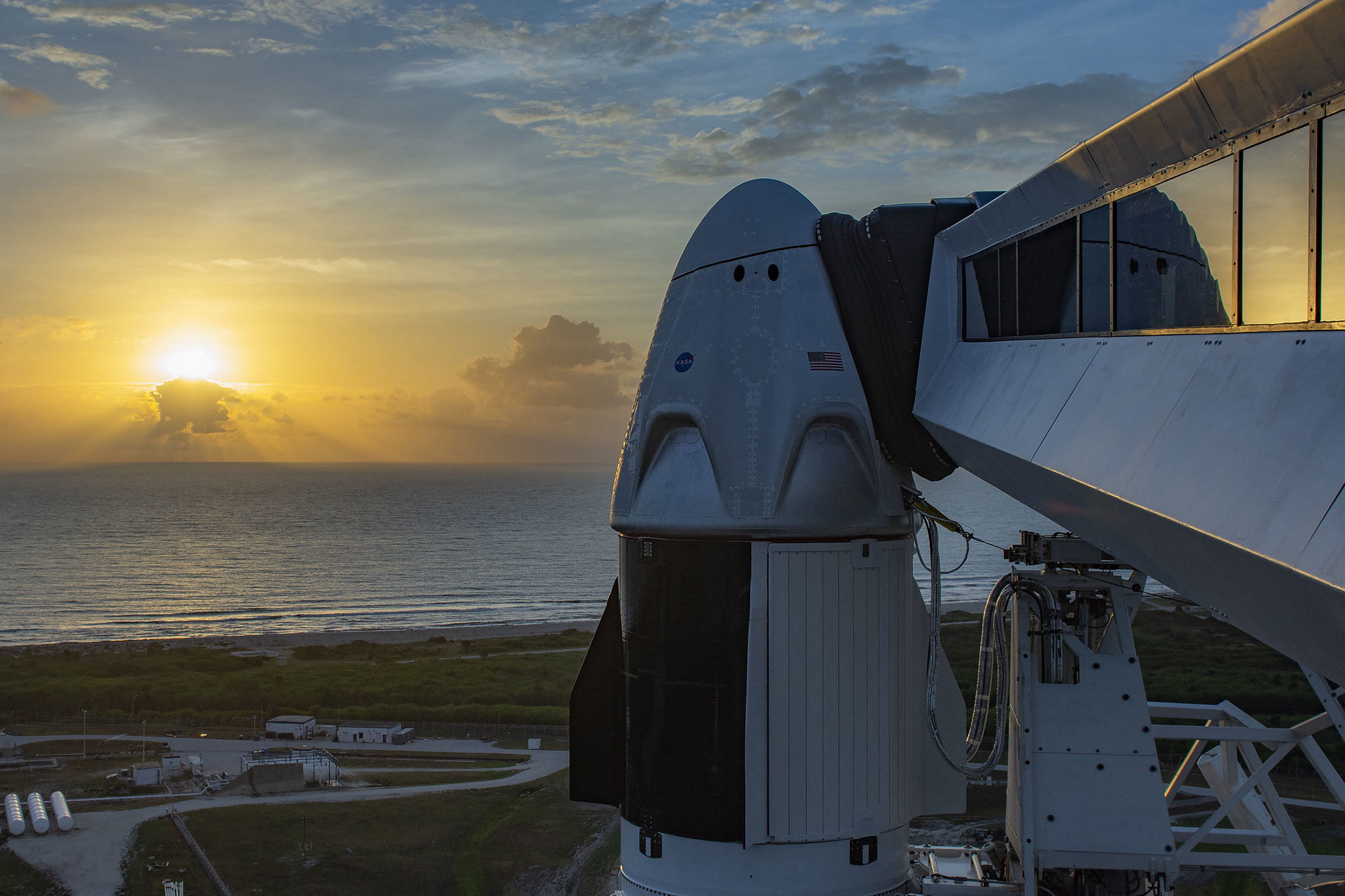 One of the most anticipated space flights is expected on May 30, 2020. SpaceX is slated to launch NASA astronauts to the International Space Station aboard its Crew Dragon spacecraft. This will be the first launch of astronauts into orbit from the United States in nearly a decade and will undoubtedly become a historical event.
Skywatchers in some parts of the world will have the opportunity to get a glimpse of Crew Dragon catching up with the ISS in the sky. Here's everything you need to know about the historic mission.
SpaceX's Crew Dragon launch
Weather permitting, SpaceX will launch its Crew Dragon spacecraft with two NASA astronauts to the ISS on Saturday, May 30, 2020, at 3:22 p.m. EDT (19:22 UTC). Crew Dragon will lift off on a Falcon 9 rocket from Pad 39A of NASA's Kennedy Space Center in Florida.
Elon Musk's SpaceX has never taken people to space before. This historic launch will not only become the first launch of astronauts into orbit from the United States after the end of the Space Shuttle program in 2011 but also will mark the first time a private spacecraft will carry astronauts into orbit. A new era of human spaceflight is about to be opened.
What is Crew Dragon?
Crew Dragon (or Dragon 2) is the first private spacecraft to carry a crew into low-Earth orbit. It is an upgraded, crewed version of SpaceX's original Dragon capsule, which is an unpiloted spacecraft that has been used many times to deliver cargo to the ISS since 2012.
How and where to see it in the sky?
You can find up-to-date information about Crew Dragon's location in the sky in astronomical applications Star Walk 2 and Satellite Tracker by Star Walk as soon as the spacecraft is launched. These apps also contain everything for real-time tracking of the ISS and other satellites all over the world. If on launch day the ISS is flying over your location and viewing conditions are favorable, you have a good chance of seeing SpaceX's Crew Dragon pursuing the ISS in the night sky.
Although Crew Dragon will appear in the sky dimmer than the ISS, which is always easy to spot, it will still be bright enough to be seen with the naked eye. If there are problems with identifying Crew Dragon, the brilliant space station will serve as a guide. Check the best viewing time for your area in Star Walk 2 or Satellite Tracker by Star Walk and get ready to witness one of the most anticipated space flights.
About the mission
SpaceX's first crewed mission to send astronauts to the ISS is called Demo-2. The crew of Demo-2 consists of two veteran NASA astronauts – Bob Behnken and Doug Hurley. They have been training for the past four years tо fly on SpaceX's Crew Dragon spacecraft.
Both the spacecraft and the first stage of the Falcon 9 rocket are new and have never flown into space before. According to NASA, lifting off from Launch Pad 39A, the Crew Dragon spacecraft will accelerate the astronauts to approximately 17,000 mph before putting on an intercept course with the ISS.
About 3 minutes after liftoff, the rocket's first stage will separate from the upper stage and begin preparations for returning to Earth. It will land on the autonomous spaceport drone ship called "Of Course I Still Love You" in the Atlantic Ocean. Crew Dragon is expected to dock with the ISS about 19 hours after the liftoff, on Sunday, May 31, at approximately 10:22 am EDT (14:22 UTC). It's not yet known how long the mission might last. According to NASA, it will be anywhere between 30 days and 119 days.
History
American astronauts have not flown to orbit aboard an American spacecraft or from an American launch pad since the end of the Space Shuttle program in 2011. That year, NASA decided to entrust private companies to deliver cargo and astronauts to the International Space Station to focus on other, more ambitious projects.
Initially, two companies, SpaceX and Boeing, were picked by NASA to send astronauts to the ISS. SpaceX turned out to be a leader. It successfully completed a test unmanned flight, while the Boeing's spacecraft (Starliner) encountered problems almost immediately after reaching space.
On September 16, 2014, NASA selected SpaceX Crew Dragon to fly American astronauts to the International Space Station and back safely under the Commercial Crew Program.